Sheffield's Independant NHS GP and Hospital Health Services Monitoring and Local Information Website
---
UK Coronavirus COVID-19 Infections and Deaths Trend Forecast 2020
14th Feb 2020
This week the people of Britain got a taste for how the Coronavirus epidemic is going to break out in the UK. As apparently a Chinese woman infected with the Coronavirus flew from China to the UK before she was put into quarantine in China, boarded a flight to the UK, with no regard to the risks of infecting fellow passengers on the plane. No regard to the staff and the thousands of passengers at Heathrow airport.
Where instead of declaring that she was infected with the killer virus on arrival, went through customs and border control, exited the airport and then proceeded to take a Uber taxi without regard to the driver and his family or the other passengers who would ride in the Uber after her, to the nearby Lewisham hospital . Walking into the A&E department without regard to the staff and patients sat there, effectively declaring that I am ill with Coronavirus so give me treatment!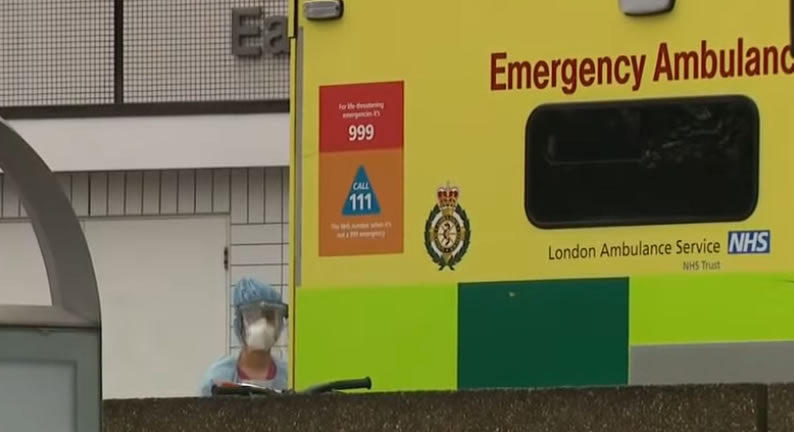 This Chinese persons actions, as those of another pair in York a couple of weeks ago have once more sent health officials scrambling to track down and test everyone who has been in contact with the infected person, including putting several members of staff at Lewisham Hospital into quarantine. However there appears to be a delay of about 4 days before the general public are informed of infection incidents which just like China risks losing control of outbreaks.
This illustrates why coronavirus outbreaks in Britain and across the world are inevitable as a consequence of selfish Chinese people fleeing the communist state who basically don't give a shit about anyone but themselves as a consequence of being born into a totalitarian state where people are taught not to think beyond that which the communist party allows for, under threat of committing thought crimes that results in a don't give a shit attitude towards fellow citizens that is primary reason why the virus raged for a whole month before Chinese state started to take action, because citizens tended to ignore strangers dropping dead on the streets, as they have been brainwashed to keep their heads down, the only thing that matters is themselves and their immediate family and so as a quarantine loomed in Wuhan, some 5 million fled the city taking the virus with them spreading it across the whole of China not once thinking of what they were doing to their country.
China Underreporting Coronavirus Infections and Deaths
The Chinese communist regime's propaganda of the past week of having brought the Coronavirus outbreak under control by referring to daily falling infection rates from a peak of about 4,500 to 2000 has now been completely blown away following the declaration of a huge 33% jump in the number of infections (15,000) totaling 60,000 Thursday! Also the number of deaths jumped sharply higher to 1369 from 1115.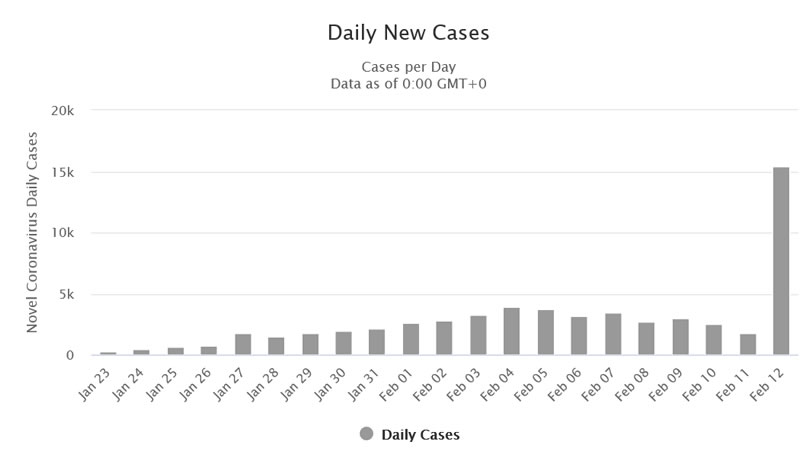 This begs the question of how many cases and deaths in the preceding weeks are missing from the above graph! Which illustrates what I have been stating for several weeks that China's coronavirus statistics just cannot be trusted where the true number of infections and deaths could easily be triple the official data. So the 15k jump in one day should not be so surprising given that China is hitting capacity constraints in it's ability to diagnose cases and cause of deaths. As the primary objective is to halt the pandemic rather than count numbers. So even those suspected of being infected are being isolated by force or told to go home and self quarantine, far away from the over flowing hospitals and medical centres, thus greatly masking the true number of infections.
Though the same would likely be true for most nations once they start to pass a certain number of infections that swamp the capacity of healthcare the systems. The only difference being that China refused to acknowledge the outbreak for the first month, even going so far as to silence doctors who were warning of the new virus.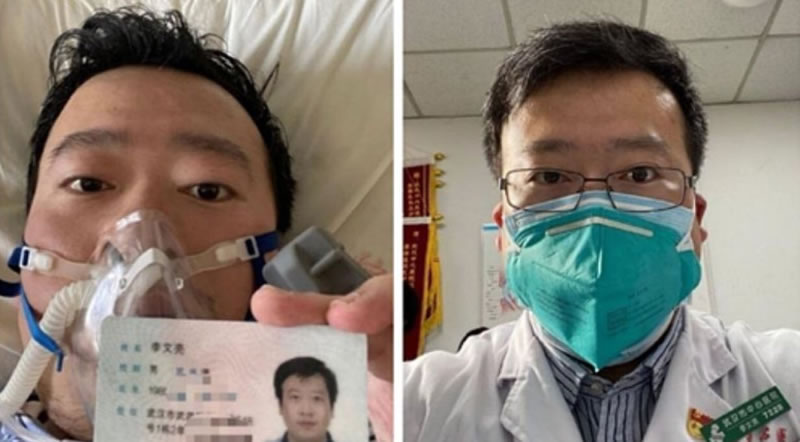 China is a totalitarian state where the primary objective of every citizen and lowly officials is follow the rules which means to demonstrate what a good citizen they are by towing the community party line, and to behave in a manner that pleases the communist party. Which in this respect meant not to be the harbinger of bad news. So clearly as I've often voiced in my videos and articles of the past 3 weeks is that officials are reluctant to pass bad news on up the command chain, which is primary factor in today's jump of 1/3rd, as suspected infections were tended to be ignored so as to fulfill the communist parties objectives for public statements that the virus was coming under control.
So expect to see further such spikes in numbers over the coming days and weeks as the actual number of infections is likely already well over 150,000. Especially as I doubt that the temperature sensors being used are of much use in detecting most infections, as a study of cases reveals that the high temperatures only tend to come about a week AFTER infection when the patient is clearly ill. So widespread use of the temperature checks is mostly useless in identifying infected persons, thus travel of infected people continues to take place as we just witnessed with the Chinese traveler.
Coronavirus Spread Day 68 - 14th Feb 2020 Update
My forecast for the number of infections and deaths by 14th of Feb 2020 vs actual reported: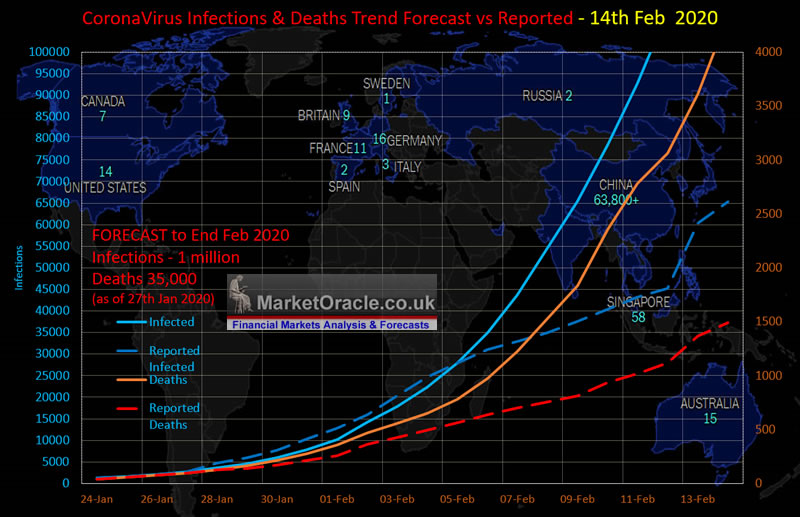 | | | |
| --- | --- | --- |
| | Infections | Deaths |
| Forecast | 154820 | 4334 |
| Actual Reported | 65247 | 1491 |
| % Diff | 42% | 34% |
Were this trend to continue into the end of February 2020 then the number of infected would total 421,000, whilst the number of deaths would total 9,630. So the latest data implies a lower spread but still a relatively high mortality rate of about 2.3%.
In reality the actual number of infections and deaths is likely closer to the forecast than what China's healthcare system hitting capacity constraints implies, as for some weeks all those even suspected of being infected are not being met by medical staff but by a barely protected army of police as the opening minutes of my most recent video illustrates.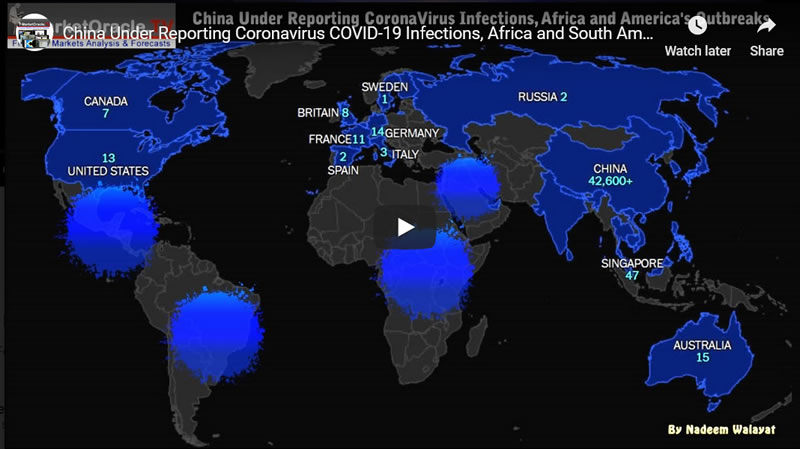 The fact that China is grossly under reporting the actual number of cases translates into:
a. The number of infections outside of China will continue to rapidly increase as contact with infected Chinese people acts as sparks for epidemics elsewhere.
b. That the outbreak in China will FAIL to subside, which is what it should do if Chinese statistics were accurate i.e. the pandemic would basically come to an end within a couple of weeks. But instead I expect the number of infections to continue at a high rate for several more months.
So I still expect the actual pool of infected to pass 1 million by the end of February and thus the risks of a global pandemic remain highly probable.
And that there are large susceptible populations with poor healthcare infrastructure such as India that announced it's first infection a week ago where outbreaks could quickly overwhelm heathcare systems. Also that a vaccine is still a good 4 months away so far too late to have any impact on this pandemic.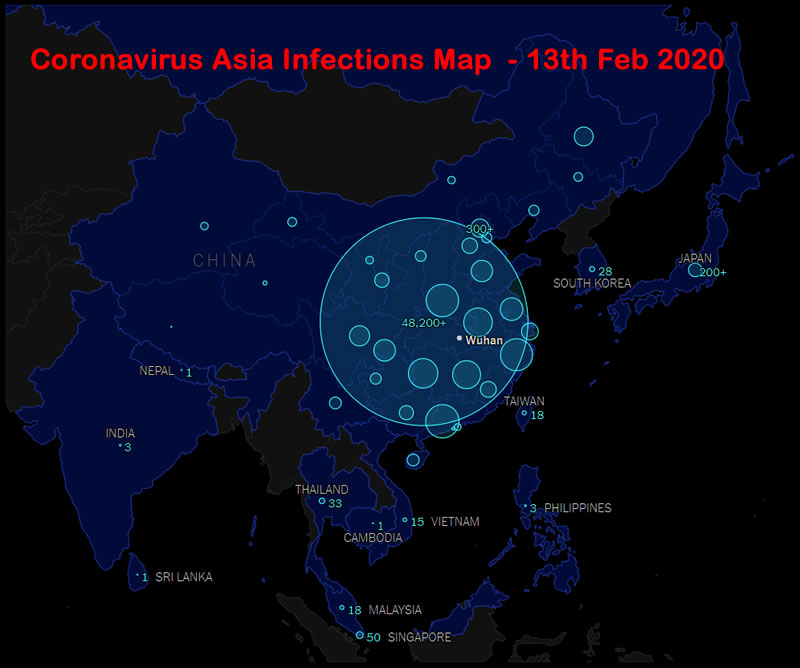 The bottom line is no one should be fooled by coronavirus statistics out of China, the pandemic is NOT under control and the number of infected has likely already passed 150,000. With like wise the number of deaths exceeding 2,000 or near twice the official number, the evidence of which is literally being cremated.
Therefore given the actual continuing rate of spread of the virus in China then the forecast trend trajectories for the rest of the world is currently one of being in the calm before the storm stage with likely several outbreaks that risk over whelming healthcare systems around the world as has happened in China.
What's more worrying is that when one looks at the world map, apparently there are no cases of the virus in Africa or South and Central America? That is very hard to believe, instead suggests that there are hidden out breaks underway in those regions that will only make the light of day when the body bags start piling up.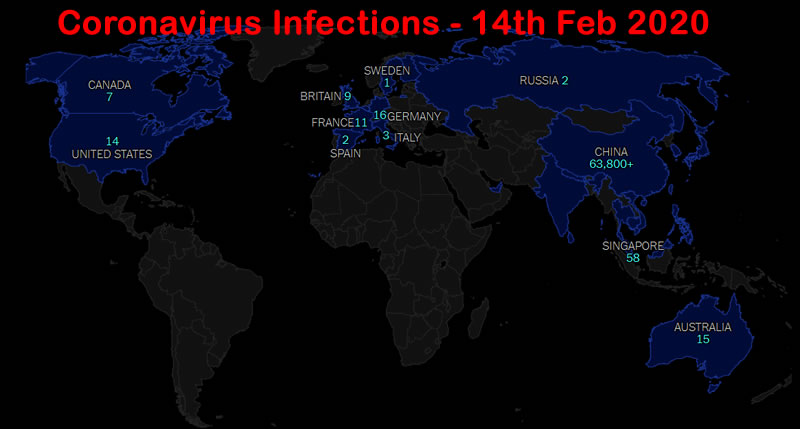 Until then don't be fooled into a false sense of security, the pandemic IS coming to your nation
UK Coronavirus Trend Forecast 2020
Taking account the actual trend trajectory of China's outbreak and allowing for -
a. That China is under reporting the number of cases by at least 50%.
b. That the UK is expected to be more open in the reporting and handling of Coronavirus cases thus with a better informed public should prove better able to contain Coronavirus outbreaks, even if there currently exists a 4 day lag that is not good!
Thus my forecast conclusion is for the UK to target a trend towards 5,000 infections by the end of March 2020. Which will likely result in over 1000 hospitalisations and some 90 deaths, which whilst putting the NHS under extra strain, however Britain should be able to cope with the outbreaks upto this point.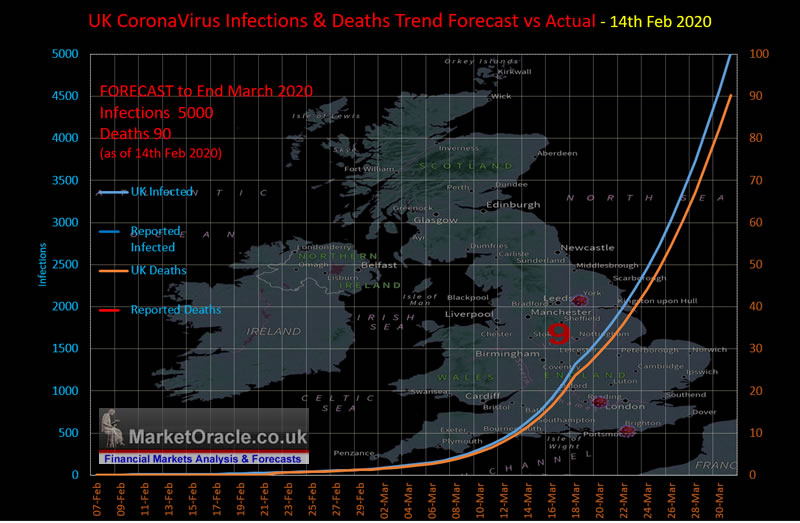 So I expect the number of infections to only really start taking of early March when the number infected pass 100 and soon start to accelerate into the hundreds. Early March is also when I expect the first reported death from Coronavirus in the UK. At which time there will increasingly be economic consequences especially for the travel, holidays, retail and events sectors as consumer behaviour will undoubtedly change in attempts to avoid the risk of infections as we have witnessed in China, where huge mega-cities the size of London have turned into ghost towns that will likely be replicated in outbreak hot spots across the UK.
So the UK is still in the calm before the storm stage so people should take measures to protect themselves by both limiting exposure to risk of viral particles i.e. by steering clear of those who may have recently been to China, and by boosting ones immune systems so as to better cope with an infection, achieved by for instance consuming say 2 or 3 oranges a day for vitamin C, another easy way to boost the immune system is to ensure one gets ample sleep.
I will cover how to protect from the coronavirus in more detail in a future articles and videos.
Will CoronaVirus Pandemic Trigger a Stocks Bear Market 2020?
My latest in-depth analysis that concludes in a detailed trend forecast for the Dow stocks index has first been made available to Patrons who support my work (Will CoronaVirus Pandemic Trigger a Stocks Bear Market 2020?).
By Nadeem Walayat
Copyright © 2005-2020 Marketoracle.co.uk (Market Oracle Ltd). All rights reserved.
Nadeem Walayat has over 25 years experience of trading derivatives, portfolio management and analysing the financial markets, including one of few who both anticipated and Beat the 1987 Crash. Nadeem's forward looking analysis focuses on UK inflation, economy, interest rates and housing market. He is the author of five ebook's in the The Inflation Mega-Trend and Stocks Stealth Bull Market series that can be downloaded for Free.
Nadeem is the Editor of The Market Oracle, a FREE Daily Financial Markets Analysis & Forecasting online publication that presents in-depth analysis from over 1000 experienced analysts on a range of views of the probable direction of the financial markets, thus enabling our readers to arrive at an informed opinion on future market direction. http://www.marketoracle.co.uk
Disclaimer: The above is a matter of opinion provided for general information purposes only and is not intended as investment advice. Information and analysis above are derived from sources and utilising methods believed to be reliable, but we cannot accept responsibility for any trading losses you may incur as a result of this analysis. Individuals should consult with their personal financial advisors before engaging in any trading activities.
Copyright © 2020 NHSSheffield.Com - A Market Oracle Public Service
Disclaimer: The above is a matter of opinion provided for general information purposes only and is not intended as personal health advice. Information and analysis above are derived from sources and utilising methods believed to be reliable, but we cannot accept responsibility for any consequences as a result of this analysis. Individuals should always consult with their health advisors before engaging in any treatment.
The dynamic version of NHSSheffield.com will go live in due course.