Sheffield's Independant NHS GP and Hospital Health Services Monitoring and Local Information Website
---
Sheffield Where to Live? Best and Worst Areas, Advice on Moving
31st Oct 2013
Sheffield is Britain's fifth largest city with a population of 552,000 people that occupy's the south west quadrant of the county of South Yorkshire, which given its central UK position, prominent rail and motorway links is a favourable destination for national and international migrants from nearby towns and further afield given its relatively low favourable house prices.
Unlike London, many people contemplating moving to Sheffield will not find much information on the internet as to which are the best area's to live in especially as Sheffield is a large and diverse city offering a myriad of potential areas that can be very confusing to new comers, so whilst my recent article was focused on Sheffield's area based house price trend forecasts, however this analysis only skimmed the surface of which are the best places to live in Sheffield.
22 Sep 2013 - Sheffield House Prices Forecast, UK, Yorkshire and Humber
The below graph details my concluding forecasts for the annual rate of price change by area's of the city of Sheffield for the end of 2013, which is set against the actual price changes over the past 12 months (July 2013 Data). The forecast average for the city as a whole is approx 5.5%.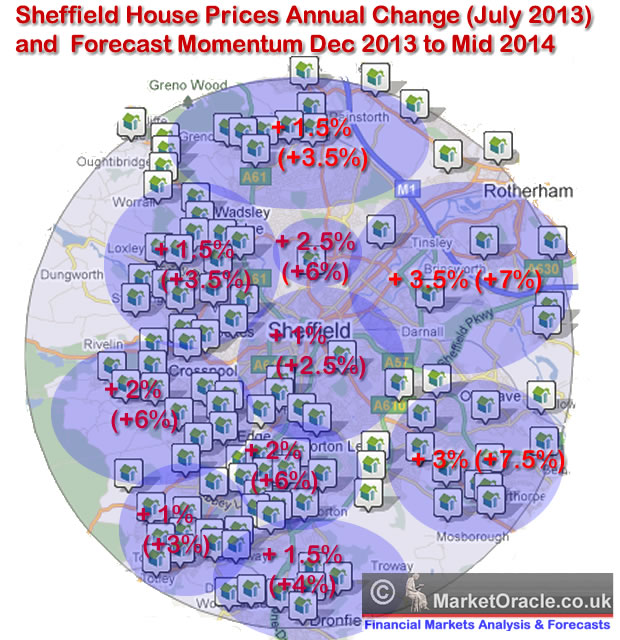 Key determinants of which the are best areas to live in Sheffield are just as valid for many other 'unknown' UK cities :
Local Schools Performance
It is important to consider school league tables both in terms of rankings and the trend in performance over several years. However, whilst the teachers of 'GOOD' schools can boast of their hard work, the truth is that it is the PARENTS who determine whether a school is good or bad and NOT the quality of teaching. The facts are that middle class parents go out of their way to educate their children including engaging in much extra curricular activity. Whilst parents of deprived area's tend to wholly leave it to the FREE state schools to educate, and pay little attention to extracurricular activities or other factors such as teaching behaviour and instilling discipline. So school league table trends are one of the best indicators for the best locations to live near such schools, under the umbrella of their catchment areas.
Another point to consider is that the best schools are increasingly heavily over subscribed, this is as a consequence of the Labour run Sheffield City Council continuing the Liberal Democrats programme for deep cuts in Sheffield's education budget as the below graph illustrates that in nominal terms has seen the education budget already cut by 11% since 2010 and 17% in real terms for the year 2012-13 and with the budget for 2013-14 announced continuing the the deep cuts to 14% and 24%, (after inflation of 3% per annum).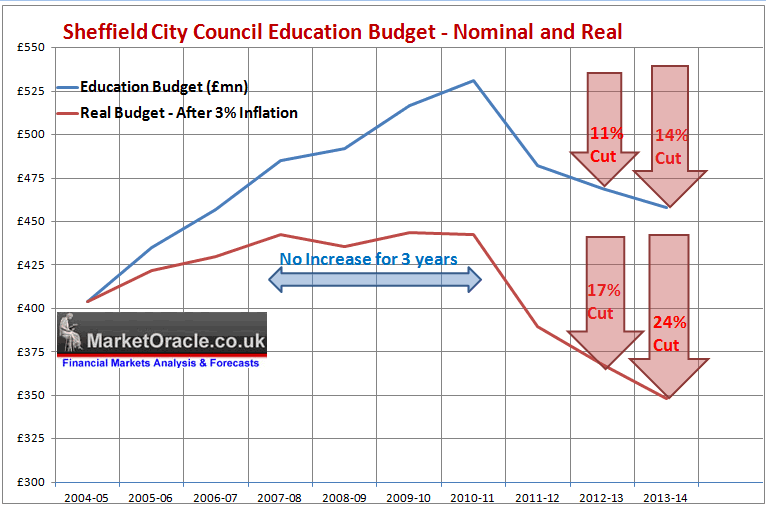 The impact of these cuts in child places in effect reverses the picture of more than a decade earlier when most of Sheffield's children could have expected to receive a place at their school of their choice at the application stage, with even more accepted on appeal, this was as the below graph illustrates by virtue of the fact that for many years Sheffield had a surplus of 5,000 school places (about 5%). However, over the past 2 years deep cuts in the budget in real terms has reversed the situation from an estimated 5,000 surplus places to a deficit of 5,000 places as of 2012-13, i.e. a cut of 10,000 school places through school closures and reductions in the number of classes running at exiting schools, against that which were available during 2010-11, the consequences of which is that schools are being effectively stuffed full to the rafters with the number of children per class now far exceeding the recommended guidelines for maximum class sizes which is resulting in the lack of school places at even catchment area schools.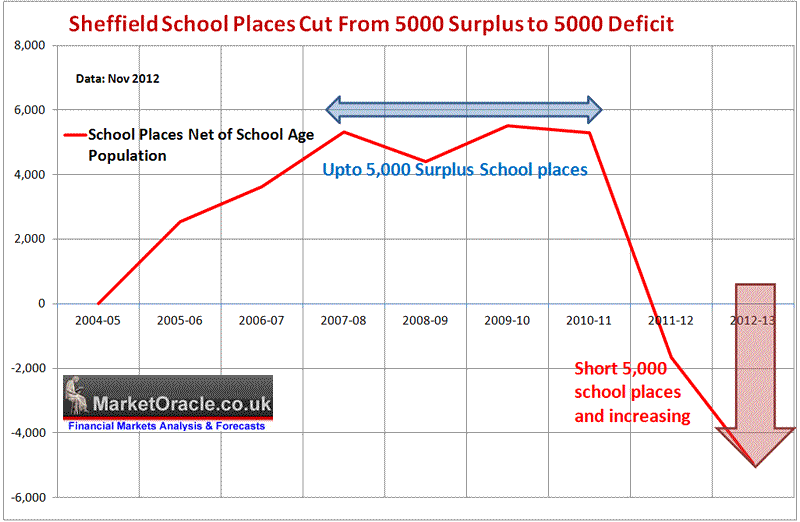 What this means that prospective home buyers must not assume that they will be given a place at a nearby BEST school but need to ensure that they -
a. Buy a house well within the catchment area of their target school and that the new home is significantly closer to the target school than any other school.
b. That the deadlines for school applications are met, so must time the house purchase inline with the application process else they will be sent to alternative more distant schools because of the huge shortage in school places that the city council in its wisdom is seeking to solve by super-sizing some existing schools such as Greystones Primary School, which actually increases the probability of NOT getting a place at the nearest school for instance at the higher ranking Dobcroft Junior School as in effect the catchment area for Dobcroft shrinks whilst that for the extended Greystones expands to soak up demand, which is NOT what the prospective home buyer had in mind!
Sheffield Top 15 Primary Schools out of 116
Coit Primary School Bradfield Dungworth Primary School Birley Spa Community Primary School St Wilfrid's Catholic Primary School St Joseph's Catholic Primary School Lydgate Junior School Stocksbridge Junior School Nether Green Junior School Dobcroft Junior School St Thomas of Canterbury Catholic Primary School Dore Primary School Grenoside Community Primary School Carfield Primary School Mundella Primary School Totley All Saints Church of England Voluntary Aided Primary School
Sheffield's Top 5 State Secondary Schools out of 29
Silverdale School High Storrs School Notre Dame Catholic High School Tapton School King Edward VII School
Crime Rates
No one wants to live in fear in a high crime rate area, unfortunately for Sheffield it has plenty of high crime areas dispersed throughout the city and it is relatively easy for someone moving into Sheffield to fall into the trap of buying what on the surface looks like a great property at a great price but only to later discover that they have bought into a high crime rate area as focusing on the traditional indicators of avoiding deprived council housing estates and high turnover high immigration populated predominantly rental areas are not enough to avoid the fragmented high crime rate areas, as the most recent news of the murder of a 25 year old Pizza delivery man in the Southey Green area of Sheffield illustrates an extreme case of but what is no longer an isolated incidence as knife attacks are taking place at multiples times the rate of that which took place in years past.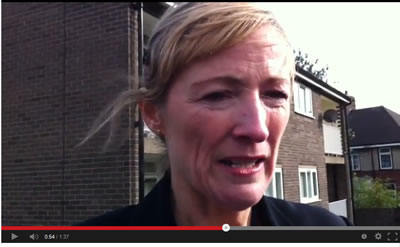 A pizza delivery man found stabbed to death at the wheel of his car was making his final delivery before starting a new job. Thavisha Lakindu Peiris, 25, was found dead by colleagues in his car in Southey Crescent, Sheffield, at 22:30 GMT on Sunday.
Det Supt Lisa Ray said he had lost his life in the "most brutal of fashions" in an apparently motiveless crime.
Therefore an analysis of area crime rates and trends is one of the critical indicators for determining a good area to live in.
The Risk of Flooding
Up until June 2007 when Sheffield was hit with the Great Flood, many Sheffielders had never taken the issue of flooding seriously, however that no longer applies where the path of Sheffield's many rivers has negatively impacted on house prices that are deemed to be at risk of flooding and therefore likely to incur difficulty in insuring which effects both affluent and the poorer areas equally, where a distance of just 50 metres can effect similar houses to the extent of as much as 25% in price, which could entice some buyers to purchase at what seems like a bargain price in a good area without fully appreciating the greater risk of flooding and the problem that they encounter in insuring and when trying to sell. The same holds true for all of the UK's major cities that are built on canals and river water ways.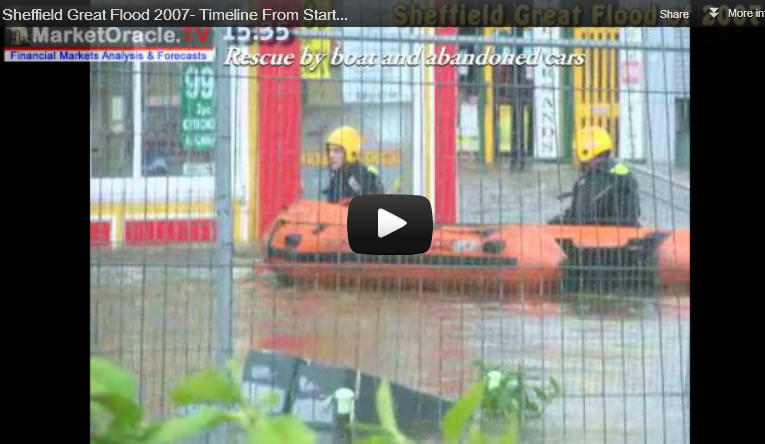 Therefore an analysis of flood risk area's is very important in determining the best areas to live.
House Price Crash Aftermath
House prices tend to crash hardest in the deprived areas, as they are last to join the boom and first to feel the bust. Whilst affluent 'good' areas are nearly always in demand and thus price falls are cushioned. This also means that poorer areas are likely to see a greater percentage gain in prices as they are starting from a lower base so the headline changes in house prices is not a good indicator, rather the average price of houses sold i.e. you get what you pay for and therefore a flatter trend in house prices suggests a better area than one of a steep trough.
Competition for Properties
The affluent areas attract greater competition for properties than the less affluent areas, especially as they are the prime locations for those migrating from the more affluent areas of the UK such as London, i.e. someone moving to Sheffield from London is approximately 20X more likely to buy a property in S10 or S11 than S5. Thus these considerations need to be taken into account when gauging whether a house is over priced or not, than comparing like for like within the city.
Social Housing
Areas with more social housing (council estate and housing associations) will tend to see more social problems as owner occupiers are more likely be working and take more pride in their property and area and behave better towards neighbours than tends to be the case with tenants.
Immigration
Continuing high immigration increasingly results in the previously settled population migrating out of these areas towards more settled areas of the city i.e. which mainly means the more recently built suburbs. This tends to result in demand for middle market properties in the suburbs as well as for the high immigrant areas, where particularly for rental investment purposes rather than residencies for own occupation. In terms of best areas to live, more settled and predominately high privately owner occupier areas of the city are the most favourable in terms of best areas to live destinations.
Student Areas
Areas of the city populated by students may not be particularly high crime rate areas, but may prove unsuitable for families as the resulting consequences are similar to that of any other high rental areas of the city such as the high migrant areas.
Up and Coming Areas
Have an eye on the future, whilst you may not be able to afford properties in the most affluent areas you could benefit by buying in the neighbouring area's that will likely become part of the affluent area's as they expand. All of the key influences such as good school catchment area's come into play for the up and coming areas as well.
Sheffield's Best Places to Live
The below map details which areas of Sheffield should be avoided and which areas should be favoured in terms of the best places to live. Obviously the amount of financing available will play an important factor in determining the choice of area's, but at a minimum the RED areas should be avoided as people moving to Sheffield, purchasing a property for their own residency in a Red area will soon come to regret their decision.
The large expanse of orange area's are as a consequence of the size of Sheffield's public sector and the private sector that directly relies on it, that continues to see deep cuts in local government spending, this also means that there is a continuing large supply of properties in these areas of Sheffield which acts to depress average house prices that masks booms taking places in pockets of the city and thus offers many opportunities towards the middle end of the property market.
Meanwhile prospective home buyers can expect a huge jump in financing requirements to purchase a property in the affluent areas of the city (Dark Green) which are situated in the the South West of the city as these areas will have experienced little in terms of the impact of the economic depression with the consequences and in terms of expected house prices is that just like many areas of London, these areas are already trading near their pre-crash levels as these are the areas that will be those that are in greatest NATIONAL demand, just as many parts of London are in great INTERNATIONAL demand (as high as 50% of properties in many areas of London are bought by foreign investors).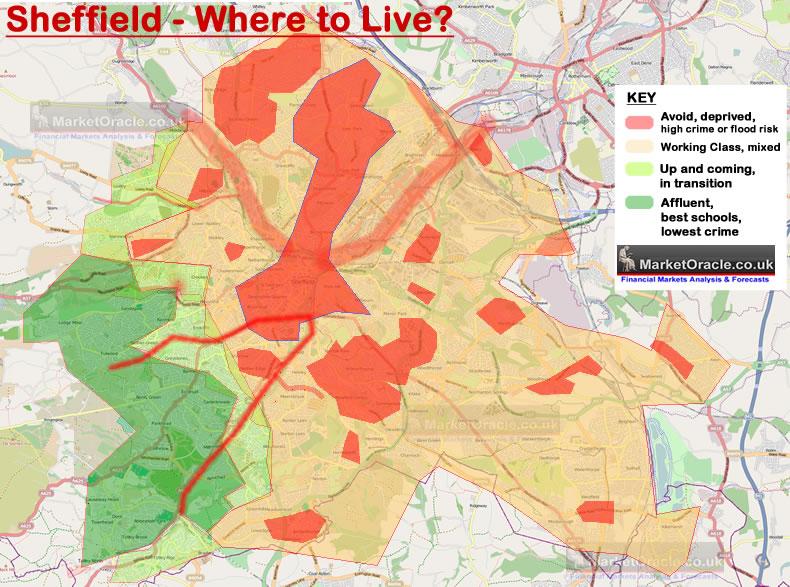 Click here for a Large version of the Where to Live Map
In summary, prospective home buyers should take notice of the fragmented nature of the city which can make a huge differences both in terms of the quality of life, school catchment etc. However, the best areas of the city can be found to be concentrated in the South West of the city as the affluent residents continue to price most local house hunters out of these areas, just as is the case for many areas of the UK. Furthermore, the most affluent area's of the city tend to have a buffer zone of up and coming areas that acts to further the gap in house prices between relatively short distances.
What this means is that whilst the pseudo-economists (journalists) that populate the mainstream media focus on average house price trends, instead the reality is of a highly fragmented and buffered market that results in areas of Sheffield that rival anything that can be seen in the South East of England in terms of house prices, which I am sure will come as a shock to many house hunters who tend to look at the academic statistics, the averages that will FAIL to give a true picture of Sheffield's housing market for instance a 4 bedroom detached house in S11 typically starts at £400k, whereas 2 or 3 miles distance a similar sized 4 bed would typically cost less than £200k.
In terms of the national picture, the trend towards 10% per annum house price inflation is now imminently materialising as originally forecast in Mid August 2013 - UK House Prices Bull Market Soaring Momentum, 10% Inflation by October?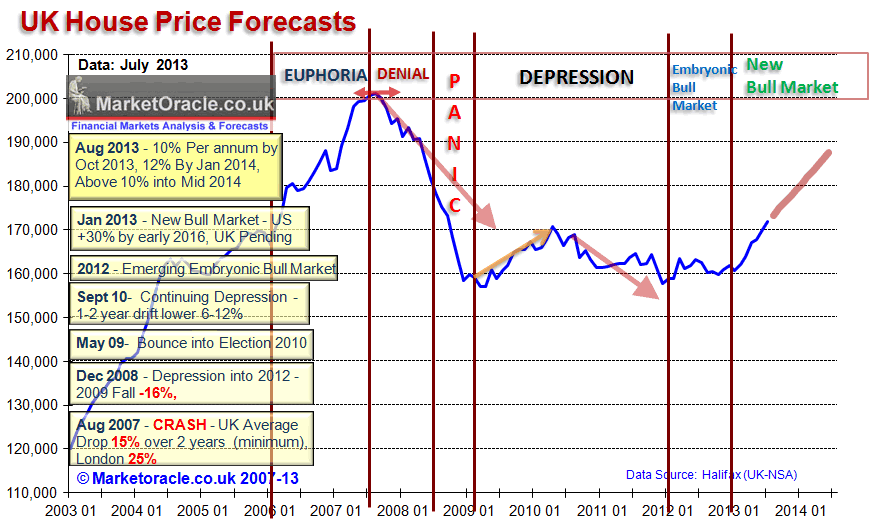 Also as illustrated in this September video -
In terms of forecast price momentum for Yorkshire and Humberside, this region clearly lags the national average as a consequence of deeply rooted socialist economic tendencies that results in a much larger public sector, and conversely smaller private sector, the consequences of which has meant a deeper impact of government spending cuts and less developed private sector to fill the gap than for instance the South East region. Therefore I continue to expect Y&H to lag the UK average by about 3%, thus the region continues to target an annual price gain momentum of 7% per annum by the end of this year.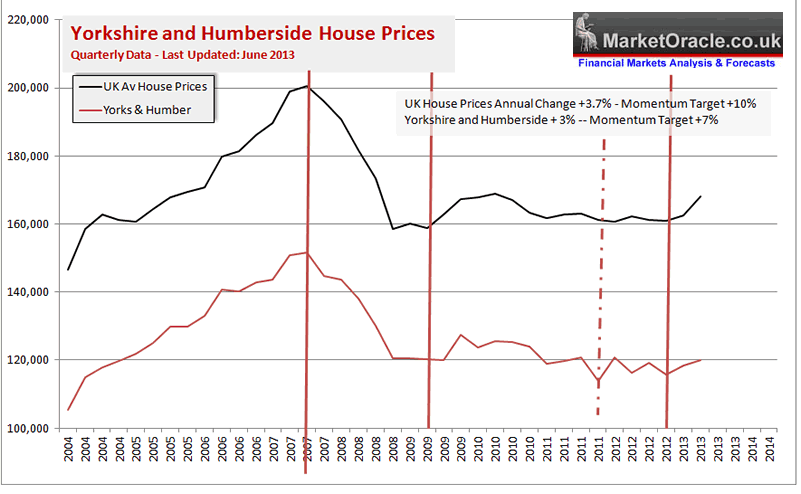 Ensure you remain subscribed to my always FREE newsletter to receive my ongoing in-depth UK house prices analysis in your email in box.
Source and Comments: http://www.marketoracle.co.uk/Article42910.html
Nadeem Walayat
Copyright © 2005-2013 Marketoracle.co.uk (Market Oracle Ltd). All rights reserved.
Nadeem Walayat has over 25 years experience of trading derivatives, portfolio management and analysing the financial markets, including one of few who both anticipated and Beat the 1987 Crash. Nadeem's forward looking analysis focuses on UK inflation, economy, interest rates and housing market. He is the author of four ebook's in the The Inflation Mega-Trend and Stocks Stealth Bull Market series.that can be downloaded for Free.

Nadeem is the Editor of The Market Oracle, a FREE Daily Financial Markets Analysis & Forecasting online publication that presents in-depth analysis from over 600 experienced analysts on a range of views of the probable direction of the financial markets, thus enabling our readers to arrive at an informed opinion on future market direction. http://www.marketoracle.co.uk
Disclaimer: The above is a matter of opinion provided for general information purposes only and is not intended as investment advice. Information and analysis above are derived from sources and utilising methods believed to be reliable, but we cannot accept responsibility for any trading losses you may incur as a result of this analysis. Individuals should consult with their personal financial advisors before engaging in any trading activities.
Copyright © 2013 NHSSheffield.Com - A Market Oracle Public Service
Disclaimer: The above is a matter of opinion provided for general information purposes only and is not intended as personal health advice. Information and analysis above are derived from sources and utilising methods believed to be reliable, but we cannot accept responsibility for any consequences as a result of this analysis. Individuals should always consult with their health advisors before engaging in any treatment.
The dynamic version of NHSSheffield.com will go live in due course.