Sheffield's Independant NHS GP and Hospital Health Services Monitoring and Local Information Website
---
Sheffield NHS UK GP Patient Survey Results 2011
15th June 2011
Nadeem Walayat writes: The latest results for the Department of Health Funded UK GP Survey have been recently released that covers the year to March 2011. The survey featured more than 5.5 million detailed questionnaires being sent out to NHS GP patients across England of which 1.96 million were returned. For the city of Sheffield a total of 68,242 questionnaires were sent out to the patients of Sheffield's 92 GP surgeries of which 26,193 were returned from which detailed results were compiled as listed in the table at the end of this article for the overall level of satisfaction at the quality of health care received.
Sheffield's Top 5 GP Surgeries - % Level of Overall Satisfaction
| | | |
| --- | --- | --- |
| | 2010-2011 | 2009-2010 |
| BLUEBELL MEDICAL CENTRE | 99% | 94% |
| MANCHESTER ROAD SURGERY | 99% | 96% |
| NORTHERN AVENUE SURGERY | 98% | 95% |
| JAUNTY SPRINGS HEALTH CENTRE | 98% | 97% |
| STANNINGTON MEDICAL CENTRE | 96% | 98% |
The results show that Sheffield's best performing Surgeries continue to cluster in the affluent areas of the city, which is reflective of the 'post code lottery' where those that reside in the affluent wards due to more likely being professionals are able to demand a better quality of NHS GP services than those that tend to reside in the deprived wards who tend to suffer in silence as to what passes for health care provision which plays a significant part in contributing to a more than 14 YEAR GAP IN LIFE EXPECTANCY between peoples living just a few miles distance from one another, which has been commented upon in the past by the Sheffield MP and Liberal Democrat Leader Nick Clegg :
"It is an outrage that social mobility has slowed, not increased, under the Blair-Brown years. It is an outrage that in Sheffield, where I'm an MP, life expectancy in the poorest wards is a full 14 years below the life expectancy of those living in the wealthiest wards. Your life chances are now set by the circumstances of your birth as never before."
Overall 15 surgeries scored a satisfaction rating of 95% or higher (16%),which compares against 24 (26%) for 2009/10, thus there has been a deterioration in the level of patient satisfaction at the quality of GP surgery services over the first year of the Coalition Government.
Sheffield's Bottom 5 GP Surgeries - % Level of Overall Satisfaction
2010-2011

2009-2010

HAROLD STREET MEDICAL CENTRE

82%

83%

HIGHGATE SURGERY

80%

76%

TINSLEY SURGERY

80%

89%

DARNALL HEALTH CENTRE (MEHROTRA)

76%

73%

DARNALL COMMUNITY HEALTH

70%

68%
Darnall Community Health continues to languish firmly at the bottom of Sheffield's 92 GP surgeries with a continuing wide gap against other GP surgeries as other bottom ranking surgeries improve, DCH showed little improvement on the 2009-10 GP Survey (68%). Other notable concern is the fall in the level of patient satisfaction at Tinsley Surgery which has literally dropped like a stone from 89% for 2009-10 to 80% for 2010-11.
Post Code Lottery
The following map shows Sheffield's Top 15 and Bottom 15 GP surgeries as ranked by Sheffield patients. The map suggests that patients of some surgeries have the opportunity to change to nearby better performing GP surgeries, though the old boys network will probably prevent you from doing so.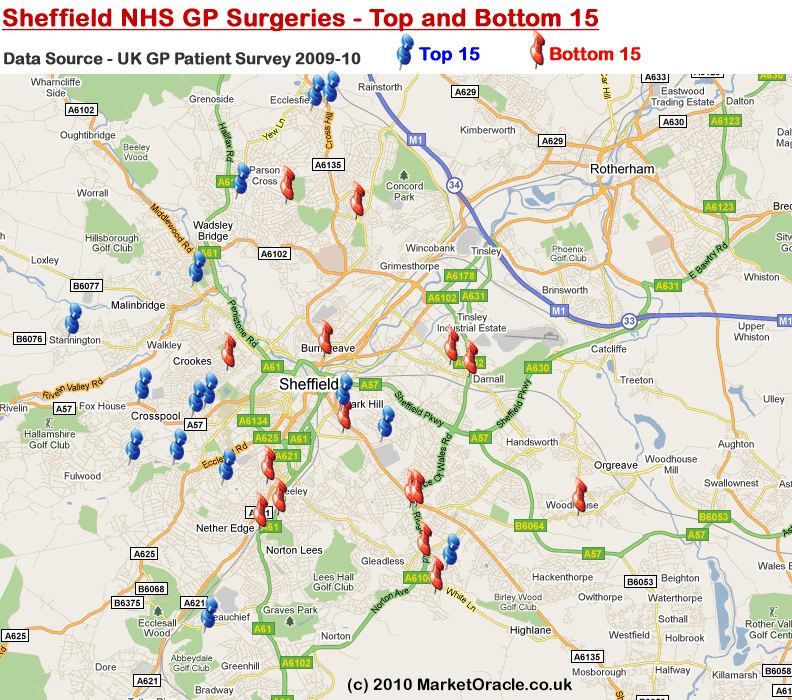 Patients across England can check the patient rating of their GP Surgeries here http://results.gp-patient.co.uk/report/main.aspx.
Sheffield NHS GP Consortia's
The core at the heart of Coalition Government's NHS reforms is to scrap ALL NHS Primary Care Trusts (PCT's) to be replaced by competing GP Consortia's to directly manage patient treatment commissioning (the process could take 2 years to implement, subject to revisions).
However whilst the media has been focused on the news of scrapping of all NHS PCT's, the flip side of the coin lies in the consolidation of GP practices into GP consortia's that is aimed at attempting to introduce real competition between GP surgeries for patients with the result that the under performing GP surgeries in cities such as Sheffield could disappear as they are unable to compete for patients in a more market orientated value for money environment due to their inability to provide health services to the satisfaction of a large % of their patients (as evidenced by the UK GP Patient Survey), thereby patients and resources are reallocated by market forces to the better performing GP surgeries, and therefore both patient healthcare improves and costs are cut.
The anticipated changes are set against the current system which contrary to what the population believes GP's are Independant PRIVATE contractors to the NHS that operates as an old boys network WITHOUT COMPETITION.
Unfortunately whilst the aim was for better value for money by means of competing consortia's, the implementation is proving to be resulting in the exact opposite anti-competitive consortia's, as virtually all of the Sheffield NHS 92 GP Practices have signed up with one of of 4 geographically located GP Consortia's in advance of the implementation of the Coalition Governments NHS reforms.
Central Sheffield Consortium
HASC ( Hallam & South Consortium)
North Sheffield Consortium for Health
Sheffield West Consortium
The flaw in the construct of the consortia's is that there is nothing to suggest that the consortia's and GP surgeries will be competing for patients which therefore means the governments planned reforms will fail and patients could end up with an even worse health services as GP surgeries will be wielding greater power within their geographic constructed Consortia's then they were able to wield under the city wide Primary Care Trust, therefore no competition in GP services will exist and the governments reforms are destined to fail, just as badly as Labours 2002-2003 GP contracts failed as they sent annual GP pay rises soaring into the stratosphere, culminating in pay rises of more than 30% per annum which effectively means that GP's are now paid nearly twice that of where there pay should be at in terms of average earnings.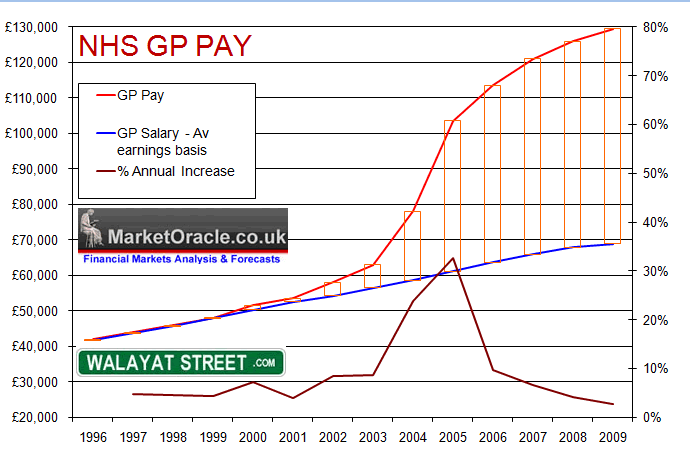 The Explosion in GP Pay contributed towards the MP Expenses scandal as when Labour came to power in 1997 average MP pay was £43,722 against average NHS GP pay of £44,000, so both were inline with one another at that time. However as the below graph illustrates in 2003 GP and MP pay started to see a serious divergence which ignited jealousy amongst MP's that directly led to the adoption of the policy of claiming expenses to the maximum so as to fill the ever widening gap between MP's and NHS GP's, as MP's could NOT get away with awarding themselves pay hikes of 30% per annum without voter out cry and risked losing their seats at the following general election, therefore across the board systematic abuse of expenses started to take place which basically meant real average MP pay was approx £98,000 per annum, still considerably less than where GP pay had risen to.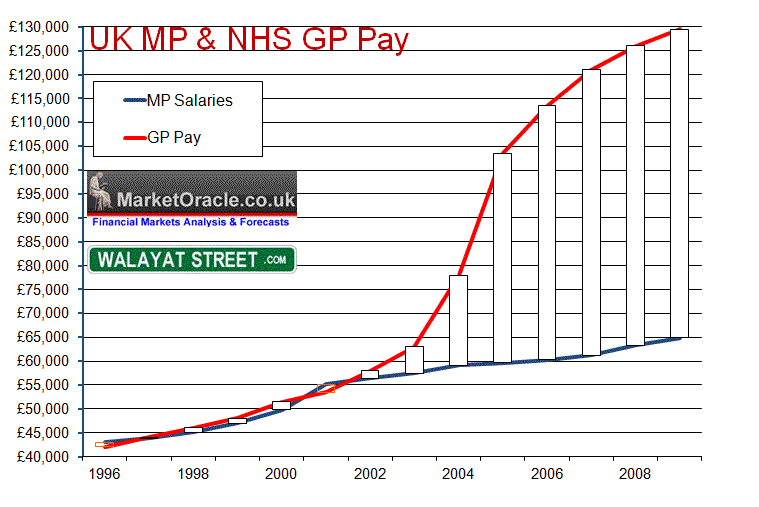 Whilst spending soared on the NHS, productivity fell by an average of 1% per year, as illustrated by a Labour government commissioned report (McKinsey) during 2009 that called for a 10% cut in the NHS workforce which was buried ahead of the 2010 general election and has only recently been published by the new coalition government.
NHS GP Doctors Putting Profit Before Patient Care, Channel 4 News Investigation
Earlier in the year, a Channel 4 News investigation charged NHS Doctors with the subversion of the the coalitions governments NHS reforms to result in NHS doctors pocketing all of the cash saved as a consequence of the NHS reforms, which matches my own analysis of a year earlier that the Coalition Governments proposed reforms were fatally flawed in that they allowed GP's to profit from patient care.
"Your doctor making a profit out of your health care, your GP Sending you to a clinic that he or she owns shares in, we are seeing the biggest shake up of the NHS in its history, Channel 4 news can reveal tonight that there is nothing on the legislation currently before parliament to prevent the outcome no one wants, doctors putting profit before the care of patients, in our special report tonight we show how the new arrangements will create fundamental conflicts of interest potentially harming the trust at the very heart of the doctor patient relationship". Channel 4 News
Channel 4 News investigation key points:
Serious flaws in the Governments NHS reforms legislation, it's failure to protect patients against fundamental conflicts of interest, it allows GP's to put profit before patient care.
All of the monies saved will go into the pockets of NHS GP's and doctors.
GP's during patient consultations factoring in the profit they will make on their diagnoses.
GP's referrals on the basis of how much commission they will earn from the heath institution.
GP referrals to health clinics that the GP's own shares in.
New private health clinics being set up with a view to making profits so that they can floated onto the stock market at huge profit for share holding GP's
GP's get access to dip their hands into the annual £80 billion pot of money meant for patient care.
GP's draw up the rules themselves on the conflict of interest, akin to writing 100 times, "I promise, I will not fiddle the patients"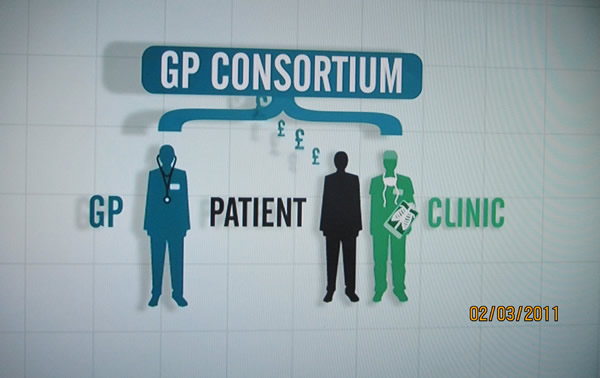 Under the previous Labour government patients were treated as credit cards to swipe in and out of door ways as fast as possible to maximise profits. Under the Coalition government patients will now become cash cows to milk to the fullest extent possible, what's best for the health of patients won't even factor into the thought process during GP consultations - "If I send Patient X to Clinic Y for Operation Z, my consortia will earn a commission of £2,000".
Sheffield City GP Health and Walk In Centre
The last Labour governments solution towards badly performing GP surgeries was to introduce Super Surgeries or Poly Clinics. Sheffield saw its own GP Polyclinic or Super Surgery open in April 2009, operated by OneMedicare that aimed to fill the gap in the wide disparity in quality of GP health care throughout the city by operating a 7 days a week service from 8am to 10pm.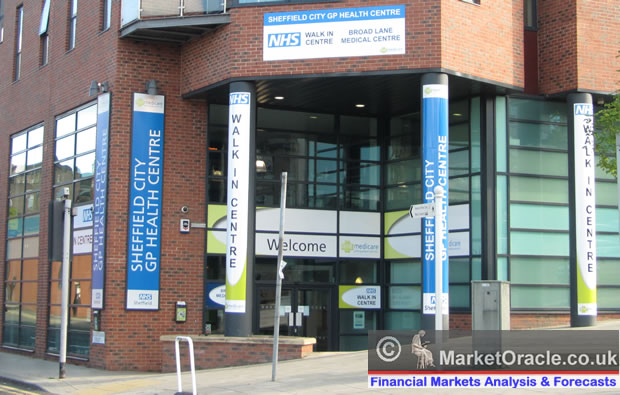 The UK GP Survey results for 2009-10 showed that 95% of registered patients where satisfied at the overall level of care received, ranking the surgery at a respectable 18th out of 92. However, for whatever reasons patient satisfaction has taken a nosedive to now stand at 89% placing the surgery at 66th out of 92, which is a pretty severe change over just 12 months.
Despite falling to 89%, the surgery still ranks better than Sheffield's bottom ranking GP surgeries so still offers an alternative to patients of those surgeries. It will be interesting to see if this private for profit company can offer a better service going forward in terms of patient satisfaction above 95%, or if it will continue to haemorrhage patient feedback due to lack of resources assigned to the increasing patient list, especially there still is no real competition for patients between Sheffield's GP surgeries.
The Sheffield City GP Centre is situated in the centre of Sheffield on the corner of Rockingham Street and Broad Lane, which purports to allow any member of the public to walk in and see a doctor or nurse with-in an hour without the need to be registered.
Parking - The drawback to the health centre is that drivers will need to pay for parking, the nearby car park charges for Monday to Saturday 08:00 to 18:30 :
- Up to 1 Hours 85p
Up to 2 Hours £1.70
Up to 3 Hours £2.55
Up to 4 Hours £3.40
Up to 5 Hours £4.25
Up to 6 Hours £5.10
All Day £6.40

Motorcycles Free
Disabled Badge Holders Free
The good news is that Sundays are free all day, so perhaps centre staff should allow for expectations for greater demand during Sundays.
Review of Sheffield GP Health Centre
A full review of the health centre will follow over the coming weeks, from the initial process of registering as a patient to actual experience of utilising services, to aid those that are contemplating making the shift from a bottom ranking surgery, especially as the drop in patient overall satisfaction from has now made this a more difficult decision.
The NHS Health Credit Card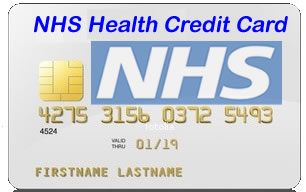 The NHS post code lottery which excludes millions from the best health care on offer can only be ended if there is real patient choice, not only for GP's but also hospitals and other health institutions right across the country where treatment is sought which requires real reform of the whole NHS health care system from diagnosis to treatment of all patients . An important element would be to place the power to purchase healthcare into the hands of the patients by means of an NHS Health Credit Card system, that enables patients to purchase health services from any GP practice or hospital regardless of whether it falls under the NHS umbrella or is fully private, so that both patients and health practitioners would be fully aware of the financial transaction involved in the purchase of the health service, which is set against the current system where patients are made to feel that they may be wasting the GP's time so are easily put off by the practiced dismissive attitude of most GP's during initial consultations, which means the medical condition of patients reaches a far more serious state and this proved more costly for the NHS to treat.
Patients would have a choice of covered core treatments for illnesses or injuries, where they would have the option of paying to top up treatments with their own money depending on the institution that they seek to purchase treatment from, or for other extra's including IVF etc. This would have the effect of reducing the cost of the NHS whilst introducing greater efficiency into the NHS as the majority of patients would only choose those health service institutions that are ranked as delivering a good service. The NHS Health credit card would revolutionise the way healthcare is delivered in the UK, much as supermarkets revolutionised food delivery and choice during the 1980's, as heath supermarkets would spring up all across the country that would maximise efficiency and standardise quality of service delivery as they competed to offer a wider range of health services than anything a bureaucratic top down health care system could ever hope to provide.
The health care credit card system could be further enhanced by workers directly contributing to their health care plans that they can claim upon to purchase 'extra' services at a later date, much as workers today contribute into private pension schemes.
The impact of this would be to greatly REDUCE the cost to taxpayers whilst at the same time delivering better health services, a win, win outcome for the people of Britain as opposed the current system of an out of control unproductive £120 billion National Health Service that attempts to mask failure to deliver with phony statistics and propaganda of a "free for all service" that does not match real patient experience.
Results For All 92 Sheffield GP Surgeries Ranked in Order of Patient Overall Satisfaction With Care Received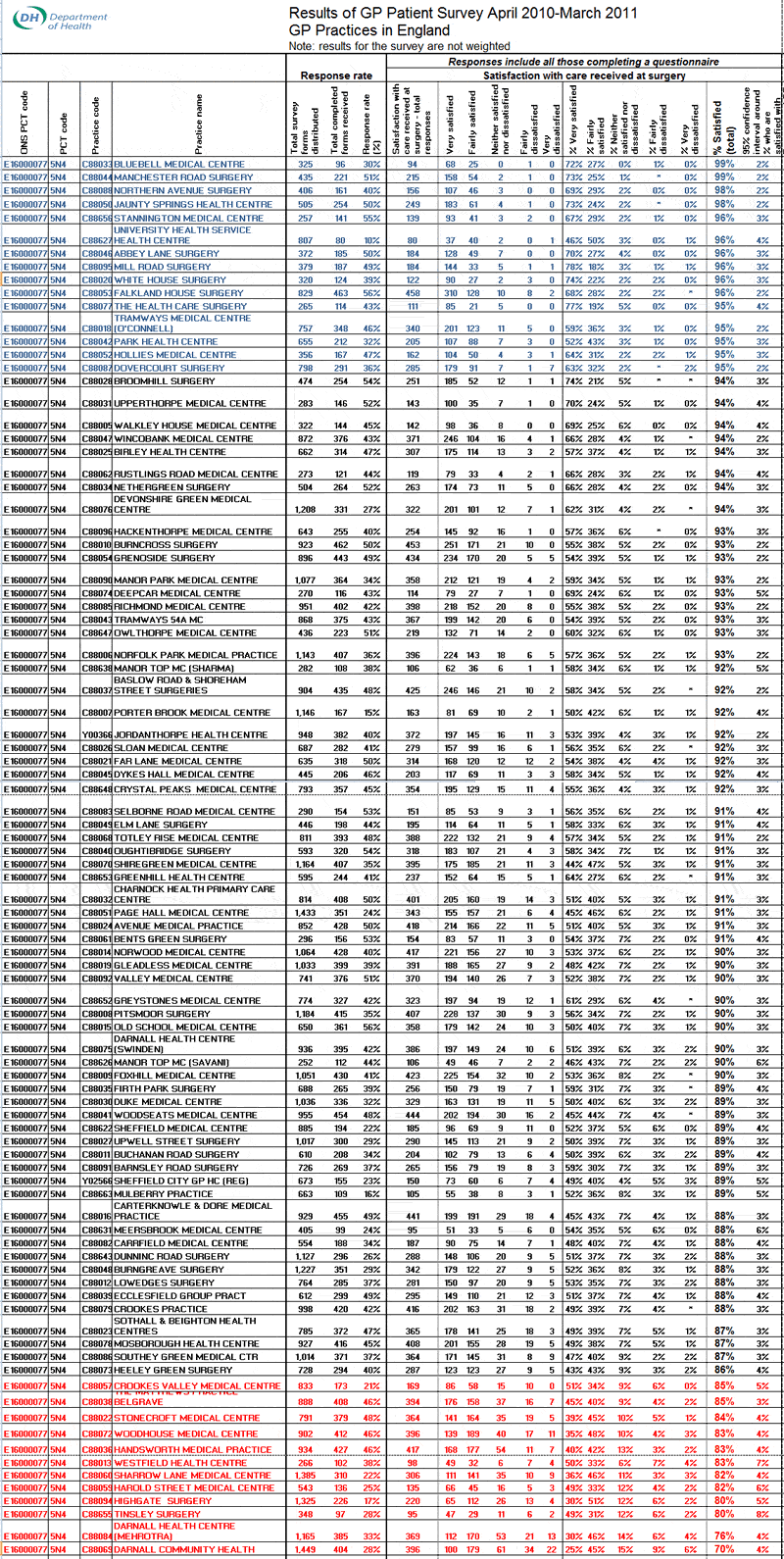 Data Source - http://results.gp-patient.co.uk/report/main.aspx
By Nadeem Walayat
Copyright © 2005-2011 Marketoracle.co.uk (Market Oracle Ltd). All rights reserved.
Nadeem Walayat has over 25 years experience of trading derivatives, portfolio management and analysing the financial markets, including one of few who both anticipated and Beat the 1987 Crash. Nadeem's forward looking analysis focuses on UK inflation, economy, interest rates and housing market. He is the author of three ebook's - The Inflation Mega-Trend; The Interest Rate Mega-Trend and The Stocks Stealth Bull Market Update 2011 that can be downloaded for Free.
Nadeem is the Editor of The Market Oracle, a FREE Daily Financial Markets Analysis & Forecasting online publication that presents in-depth analysis from over 600 experienced analysts on a range of views of the probable direction of the financial markets, thus enabling our readers to arrive at an informed opinion on future market direction. http://www.marketoracle.co.uk
Copyright © 2011 NHSSheffield.Com - A Market Oracle Public Service
Disclaimer: The above is a matter of opinion provided for general information purposes only and is not intended as personal health advice. Information and analysis above are derived from sources and utilising methods believed to be reliable, but we cannot accept responsibility for any consequences as a result of this analysis. Individuals should always consult with their health advisors before engaging in any treatment.
The dynamic version of NHSSheffield.com will go live in due course.