Sheffield's Independant NHS GP and Hospital Health Services Monitoring and Local Information Website
---
Sheffield City Centre NHS GP and Walk in Centre Real Patient Experience Review
5th April 2012
One Medicare (owned by One Medical) with much fanfare and glossy leaflet drops opened Sheffield's GP Polyclinic or Super Surgery in April 2009 that offered 7 days per week access from 8am to 8pm, situated near the centre of Sheffield on the corner of Rockingham Street and Broad Lane. The centre publicised that it was open to any person to walk in off the street and see a GP or nurse without a prior appointment (allow upto 3hours waiting time) and those choosing to register with the surgery would receive full NHS services, thus offering an alternative to patients stuck in the catchment areas of Sheffield's bottom ranking GP Surgeries.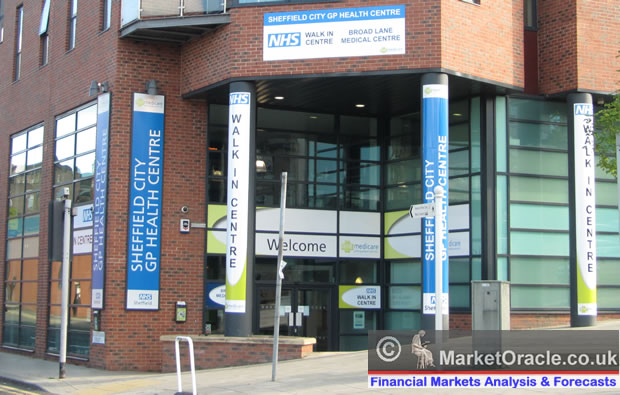 Parking - One of the drawbacks to the GP centre is that drivers will need to pay for parking, the nearby car park charges for Monday to Saturday 08:00 to 18:30 :
- Up to 1 Hours 85p Up to 2 Hours £1.70 Up to 3 Hours £2.55 Up to 4 Hours £3.40 Up to 5 Hours £4.25 Up to 6 Hours £5.10 All Day £6.40 Motorcycles Free Disabled Badge Holders Free Sundays are free all day.
Review of Sheffield Broad lane GP Surgery Based on Real Patient Experience
In the surgeries first year of operation the Department of Health funded UK GP Survey results for 2009-10 showed that 95% of registered patients where satisfied at the overall quality of care received, ranking the surgery at 18th out of 92. However, patient satisfaction continued to deteriorate significantly during the subsequent 12 months to March 2011 to rank the GP surgery at 66th out of 92,(see table at end of article). The GP Survey results to March 2012 will be analysed and published when available, which this review is in advance of as a summary of what patients can expect based on real experience of using the GP Surgery services as a registered patient for 6 months over a number of consultations as covered in detail in November 2011.
Arranging Appointments
The surgery is easy to get through to on the phone and expect appointments to be available for 1 week in advance.
Waiting Time for pre-booked appointments
Expect to be kept waiting for upto 1 hour 20 minutes for a pre-booked GP Consultation appointment.
New Patient Health Checks
Despite promises contained in the glossy leaflets and website, expect no new patient health check arranged, this is even if the patient specifically requests an appointment for a health check with reception staff in person, still the patient is likely to receive an ordinary GP Consultation on their next visit rather than a new patient health check.
Quality of GP Consultation
Quality of consultations is poor because the Surgery as personally experienced as a matter of routine dumps patients onto locum's (temporary GP's), as experienced in 2 out of 3 consultations. The flaw here is that these consultations can prove literally worthless, and have resulted in the locum GP stating that they are unable to deal with the patient symptoms and that they need to go and make another appointment with a regular GP, which the patient had already done so in the first place thus resulting in a wasted day and in having to wait another week coupled with a 66% probability of being seen by another locum despite requesting to have an appointment with a regular GP.
Conclusion
This highlights the danger of letting the private sector contract for the NHS as without competition for patients between GP Surgeries then there is no incentive to deliver satisfactory GP or any other health services as monopolies will seek to maximise profits such as cutting costs by contracting cheaper locum GP's.
Options for Patients
Patients should aim to register with GP practices that rank in the top 1/3rd of GP surgeries as per the UK GP Patient Survey so as to increase the probability of being in receipt of satisfactory GP health services. However the flaw here is that GP practices operate as monopolies without competition that do not allow patients to register from outside of catchment areas, which means you will likely have to move house to register with a 'good' GP surgery, hence an example of the NHS post code lottery.
An alternative is to pay for private GP consultations and referral which could prove costly (especially the referral and resulting treatment) which would mean that patients are effectively being FORCED TO PAY TWICE FOR HEALTHCARE. Also private medical insurance can turn out to be worthless in many cases given the multitude of small print get out clauses contained within.
Flawed Government NHS Reforms
In terms of the big picture, One Medicare highlights the problem at the root of the NHS that the governments reforms of letting private sector firms take up GP practice delivery is the lack of a market for patients, and not for services. For if there is no real competition between GP surgeries for patients then the patient will NOT come first, no matter who is delivering the service.
Sheffield NHS GP Consortia's
The core at the heart of Coalition Government's NHS reforms is to scrap ALL NHS Primary Care Trusts (PCT's) to be replaced by competing GP Consortia's to directly manage patient treatment commissioning (the process could fully take 2 years to implement, subject to revisions).
Unfortunately whilst the aim is for better value for money by means of competing consortia's, the implementation is proving to be resulting in the exact opposite anti-competitive consortia's, as virtually all of the Sheffield NHS 92 GP Practices have signed up with one of of 4 geographically located GP Consortia's in advance of the implementation of the Coalition Governments NHS reforms.
Central Sheffield Consortium
HASC ( Hallam & South Consortium)
North Sheffield Consortium for Health
Sheffield West Consortium
The flaw in the construct of the consortia's is that there is nothing to suggest that the consortia's and GP surgeries will be competing for patients which therefore means the governments planned reforms will fail and patients could end up with even worse health services as GP surgeries will be wielding greater power within their geographic constructed Consortia's then they were able to wield under the city wide Primary Care Trust, therefore no competition in GP services will exist and the governments reforms are destined to fail just as badly as Labours 2002-2003 GP contracts failed as they sent annual GP pay rises soaring into the stratosphere, culminating in pay rises of more than 30% per annum.
NHS GP Doctors Putting Profit Before Patient Care, Channel 4 News Investigation
During 2011 a Channel 4 News investigation charged NHS Doctors with the subversion of the the coalitions governments NHS reforms to result in NHS doctors pocketing all of the cash saved as a consequence of the NHS reforms, which matches my own analysis of a year earlier that the Coalition Governments proposed reforms were fatally flawed in that they allowed GP's to profit from patient care.
"Your doctor making a profit out of your health care, your GP Sending you to a clinic that he or she owns shares in, we are seeing the biggest shake up of the NHS in its history, Channel 4 news can reveal tonight that there is nothing on the legislation currently before parliament to prevent the outcome no one wants, doctors putting profit before the care of patients, in our special report tonight we show how the new arrangements will create fundamental conflicts of interest potentially harming the trust at the very heart of the doctor patient relationship". Channel 4 News
Channel 4 News investigation key points:
Serious flaws in the Governments NHS reforms legislation, it's failure to protect patients against fundamental conflicts of interest, it allows GP's to put profit before patient care.
All of the monies saved will go into the pockets of NHS GP's and doctors.
GP's during patient consultations factoring in the profit they will make on their diagnoses.
GP's referrals on the basis of how much commission they will earn from the heath institution.
GP referrals to health clinics that the GP's own shares in.
New private health clinics being set up with a view to making profits so that they can floated onto the stock market at huge profit for share holding GP's
GP's get access to dip their hands into the annual £80 billion pot of money meant for patient care.
GP's draw up the rules themselves on the conflict of interest, akin to writing 100 times, "I promise, I will not fiddle the patients"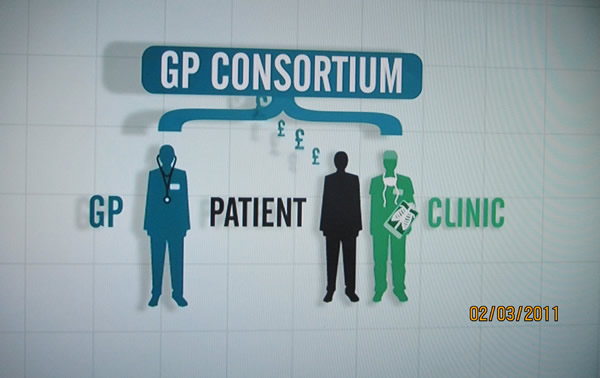 Under the previous Labour government patients were treated as credit cards to swipe in and out of door ways as fast as possible to maximise profits. Under the Coalition government patients will now become cash cows to milk to the fullest extent possible, what's best for the health of patients won't even factor into the thought process during GP consultations - "If I send Patient X to Clinic Y for Operation Z, my consortia will earn a commission of £2,000".
NHS GP Monopolies Presenting Private Sector With Huge Profit Opportunities
The bottom line is that without real competition between GP surgeries for patients then there is nothing to drive improvement in the quality of service delivery as patients have little or no choice to register with a better performing surgery, so not only do the worst performing GP surgeries continue to operate indefinitely to the detriment of their patients health but also all surgeries are gravitating towards the lowest common denominator of increasing costs and falling productivity that results in the NHS's high internal price inflation of approx 8%, all coupled together are presenting private companies such as One Medicare with highly profitable opportunities.
Therefore the government reforms are the worst of both worlds, i.e. which will ultimately allow private companies to increasingly operate not just GP surgeries but also GP consortia's eventually containing hundreds of GP surgeries in ever expanding regional blocks. Instead the exact opposite should be taking place where patients should be allowed to register with ANY GP surgery which would result in every surgery having to compete to retain patients through improving the quality of service they offer, this off course is something that GP's would never sign up to, instead as the Channel 4 investigation reveals they are signing up to become shareholders of profit led dividends paying consortia's, where patients are seen a cash cows to milk for maximum profit. And eventually over time all of these consortia's will either go public by floating on the stock market or be taken over by large corporations resulting in huge windfall profits for the shareholding GP's.
By Nadeem Walayat
Copyright © 2005-2011 Marketoracle.co.uk (Market Oracle Ltd). All rights reserved.
Nadeem Walayat has over 25 years experience of trading derivatives, portfolio management and analysing the financial markets, including one of few who both anticipated and Beat the 1987 Crash. Nadeem's forward looking analysis focuses on UK inflation, economy, interest rates and housing market. He is the author of three ebook's - The Inflation Mega-Trend; The Interest Rate Mega-Trend and The Stocks Stealth Bull Market Update 2011 that can be downloaded for Free.
Nadeem is the Editor of The Market Oracle, a FREE Daily Financial Markets Analysis & Forecasting online publication that presents in-depth analysis from over 600 experienced analysts on a range of views of the probable direction of the financial markets, thus enabling our readers to arrive at an informed opinion on future market direction. http://www.marketoracle.co.uk
Copyright © 2012 NHSSheffield.Com - A Market Oracle Public Service
Disclaimer: The above is a matter of opinion provided for general information purposes only and is not intended as personal health advice. Information and analysis above are derived from sources and utilising methods believed to be reliable, but we cannot accept responsibility for any consequences as a result of this analysis. Individuals should always consult with their health advisors before engaging in any treatment.
The dynamic version of NHSSheffield.com will go live in due course.